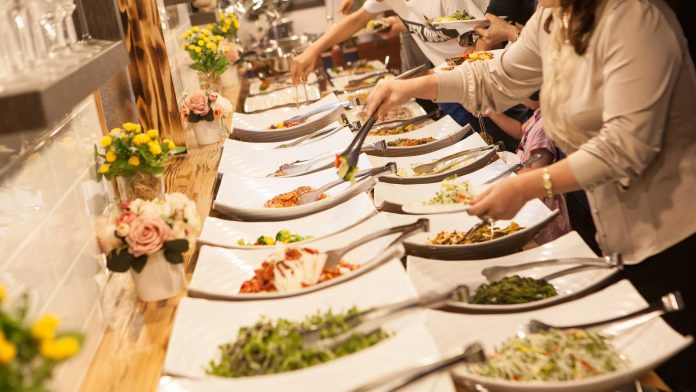 Everyone loves food! Be it a wedding reception, Sunday brunch, or a corporate event, food is a necessity on all occasions. If you have hosted parties or events then you would know that preparing and arranging food is undoubtedly the hardest part. Not only that, providing sumptuous delicacies that would make the guests happy is your duty as well. For example, if you have invited a celebrated person to your event and your food is not up to the mark, you will receive backlash about it. In short, you need delish food and perfect arrangements to make your event successful. Is there any solution to these problems? Certainly! Hiring a team of professional caterers using a suitable catering service solution can immediately make you the star of your event. Let's see how hiring catering services will benefit you and your event.
1. Scrumptious food

Isn't it obvious? I mean one of the reasons people hire catering companies is because of their great cooking skills. Providing quality food is the main goal of any successful catering service. If you have selected the right company to take all your culinary responsibilities, you can pretty much forget all the worries regarding the food and the arrangements. They know how to make a great dish taste even better by serving at the right time and temperature.
2. Saves your time
You cannot juggle two things at once. A good example would be, suppose you have a wedding event that you will be hosting but your boss calls you up for an urgent meeting – what will you do? Surely, there is no chance of hiring some to do your business meeting for you, however, there are people who can help you manage the wedding event. And those people are the catering staff. Hiring a wedding catering service is easy, you can even make an appointment through their catering websites.
3. Great assistance

Preparing meals can be quite chaotic if you are the sole cook at a party, you won't have enough time to cook different meals when you are running late. Hiring a full-service catering team solves that problem and makes your catering experience worth enjoying. Not only are they quick and fast, they always take your meal choices into consideration. What you have to do is give them the list of meals you planned to serve on your big day, the rest is their headache. Some good catering services need you nothing to do. They will buy necessary ingredients, process the food, slice, and dice properly and clean up the mess after the event ends.
4. Skillful presentation

Only good food is not enough, the serving should be presentable and appealing to the guests. And catering companies excel in providing a great dining experience with their skillful presentation techniques. They know what to serve at when. Be prepared to hear praises about their culinary skills and presentations.
5. Practicing hygiene

A well-known caterer company never compromises safety and hygiene. They maintain strict food hygiene during and after the preparation. Whether the food is prepared in their kitchen or outside, they take heavy safety measures to make sure that you and your guests can enjoy the dishes and not count hair strands in them (gross!). Caterer services these days are extra cautious and are taking additional steps to ensure everyone's protection.
These are the 5 best reasons why you should hire a catering service for corporate functions and special occasions. For a great catering company, quality always matters. It can make or break a company's reputation. Thus keeping that in mind, they make sure that all your needs are met before, during, and after the meal. Starting from high-quality meats and vegetables to drinks and beverages, they are to sort out your problems and offer an attainable solution.