1. Pressing Multiple Times to Roll Windows Up or Down
While washing the car, you notice one of your windows is slightly down. Assuming you forgot to roll it up, you press the button but it does not perform. So now you are pressing it multiple times but to no avail. All of sudden the horror of taking your car to the electrician/mechanic sends goosebumps down your spine.
Normally when you want to either roll your windows up or down, all it takes is pulling the button up or pressing it downwards. If it fails to work, then it means something is wrong. Might be that your window regulator is out of order. Cars nowadays come with automatic rolling, which means that you just pull or press the button once and the window goes up and down respectively.
2. Slow Window Speed
Window regulators come with factory programmed speed. It is neither too slow nor too fast. Incase if you notice that your windows are rolling down slowly or rolling up faster than usual, it is also a sign of a faulty regulator. Window regulators are manufactured in such a way that they do not break their speed while going up and down. As soon as you notice that there is something wrong with the speed, you might want to prepare yourself for a new regulator. As often as it can happen, fuse or wires can also result in the unusual speed. However, it is better to take it to the relevant person to get it fixed rather than playing with electrical things yourself. If it happens, time to contact an auto parts USA dealer for its replacement.
3. 'Clicking' Sound
If you notice that while pressing the button, you hear a clicking sound, it may be pointing towards a faulty regulator. Trapped debris between the motor assembly and window can sometimes also be the reason for this sound. Trapped debris will make the regulator work harder and may cause damage to the windows. If incase the regulator malfunctions, there are chances that the window could shatter while the motor is still engaged and keeps binding up the window.
4. Window Falls Down
One of the most common symptoms is the window getting stuck half way and falling down. If you notice that while pressing the button, the window is stuck for like a second and then rolls all the way up and down, then you might want to change the window motor/regulator. In worst-case scenarios, after pressing the button, you will not experience anything. It is better to get it replaced with original parts from a professional as soon as possible. You need to buy a window regular in this case from a reliable auto parts USA dealer.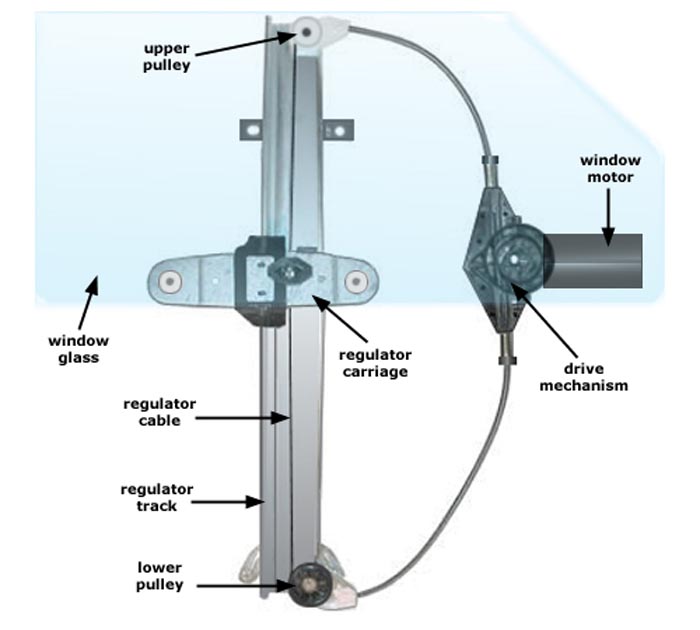 What Is the Cost of Auto Window Regulator?
Window motor/regulator is not that expensive if you are buying from auto parts USA dealer. Parts are readily available in the market and with the addition of labor cost, you can get it replaced within half an hour. While replacing the motor you need to be careful with the window. An amateur might damage or scratch it. Therefore, it is always suggested to get help from someone who specializes in the field.